Runner-Up: Outstanding Female Undergraduate Researcher Award 2010
Xuexin (Alice) Zhu is a senior at Harvey Mudd College majoring in Computer Science.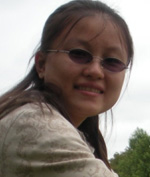 A central problem in pen-based interfaces is how to transition smoothly between drawing and editing. Beginning In her sophomore year, Alice proposed, built and tested a novel pen-based interface technique and has continued to work on the system. In 2009, she won first place in the ACM student research competition for this work.
In addition to quality research, Alice is a superior student maintaining the best GPA of any CS major in her class while doing extensive work as a TA. She has won many prestigious awards in computer science, including an Anita Borg Scholarship and a Microsoft Scholarship.
<< Back to 2010 Awards homepage
---
---
Copyright © 2007 Computing Research Association. All Rights Reserved. Questions? E-mail: webmaster@cra.org.