Winner: Outstanding Female Undergraduate Researcher Award 2010
Justine Sherry is a senior at University of Washington with a double major in Computer Science and International Studies.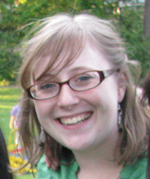 A longstanding impediment to the study of the Internet is that it does not explicitly expose information about its topology, paths or performance. Utilizing the IP timestamp option (an obscure and little-used aspect of the IP specification) Justine developed several techniques to measure unknown aspects of the Internet. She contributed critical timestamp-based algorithms to the Reverse Traceroute project, which discovers routing paths from an distant host back to a local source, improving both its accuracy and coverage. Having become probably the world's greatest expert on the IP timestamp option she then turned to developing solutions to two other Internet measurement problems using IP timestamps: router alias resolution and measuring the one-way latency of backbone links.
In addition to performing valuable research, Justine served last year as vice chair of the student chapter of ACM at her university, where she worked to engage other undergraduate students in research by revamping graduate student poster sessions and introducing the undergraduate research information sessions at the University of Washington. She is currently the chair of the student ACM-W women's chapter.
<< Back to 2010 Awards homepage
---
---
Copyright © 2007 Computing Research Association. All Rights Reserved. Questions? E-mail: webmaster@cra.org.