Winner: Outstanding Male Undergraduate Researcher Award 2010
Richard Matthew McCutchen is a junior at the University of Maryland majoring in Computer Science and Mathematics.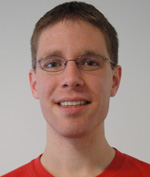 Matt has a long history of research going back to high school. His high school work on the "popular matching" problem (e.g., matching a set of people to jobs trying to satisfy their preferences) has already been cited by several other researchers. At Maryland, Matt has worked on streaming algorithms for clustering and developed a new algorithm for handling outliers. Matt also has worked on various projects in the area of programming languages.
Aside from research, Matt has maintained a near perfect GPA and has had great success at programming contests. He has qualified for the International Olympiad of Informatics three times, winning two gold medals and one silver medal.
<< Back to 2010 Awards homepage
---
---
Copyright © 2007 Computing Research Association. All Rights Reserved. Questions? E-mail: webmaster@cra.org.