About CRA
Membership
CRA for Students
CRA for Faculty
CRA-Women
Computing Community Consortium (CCC)
Awards
Projects
Events
Jobs
Government Affairs
Computing Research Policy Blog
Publications
Data & Resources
CRA Bulletin
What's New
Contact
Home
<<Back to September 2007 CRN Table of Contents
[Published originally in the September 2007 edition of Computing Research News, Vol. 19/No. 4]
CRA Participates in CNSF Exhibit
The Coalition for National Science Funding held its annual Science Exposition on Capitol Hill in late June. The event, a science fair for Congress and staff, had 35 booths manned by researchers representing universities and scientific societies featuring some of the important research funded by NSF. This year CRA was represented by Lydia Kavraki, a computer science professor from Rice University, whose research into using computational tools to solve problems in a range of areas such as biology was a hit with all those who stopped at the booth. Kavraki is pictured chatting with Rep. Dan Lipinski (D-IL). There were also a number of NSF staff members and a large contingent of Congressional staff, particularly from the House Science and Technology Committee, in attendance.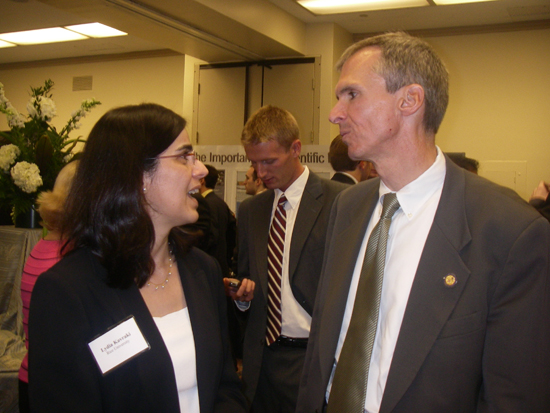 2007 CNSF Exhibition and Reception, June 26, 2007.
---
---
Copyright © 2007 Computing Research Association. All Rights Reserved. Questions? E-mail: webmaster@cra.org.