<<Back to November 2009 CRN Table of Contents
[Published originally in the November 2009 edition of Computing Research News, Vol. 21/No. 5]
Crossflow Data from the CI Fellows Project
The Computing Community Consortium (CCC) and the Computing Research Association (CRA), with funding from the National Science Foundation, recently selected sixty recipients of Computing Innovation Fellowships. The Fellows are new PhD graduates who will assume one- to two-year postdoctoral positions at host organizations including universities, industrial research laboratories, and other organizations that advance the field of computing and its positive impact on society.
The goals of the CIFellows project are to retain new PhDs in research and teaching and to support intellectual renewal and diversity in the computing fields at U.S. organizations. Part of that effort was to promote crossflow across types of institutions; that is, to encourage mentor pairings outside of "all the top schools sending students to all the other top schools."
To measure crossflow, we group the institutions sending and hosting Fellows using the 1994 NRC Computer Science Rankings in the same way they are grouped in reports of CRA's annual Taulbee Survey. In this arrangement there are four groups: Ranks 1-12, 13-24, 25-36, and those ranked higher than 36 or unranked in the 1994 rankings. This is admittedly an imperfect basis for grouping; the ratings are somewhat outdated and apply only to the institution's Computer Science program, even though CI Fellows or mentors may be from Computer Engineering or Information programs rather than CS. However, it serves the purpose of a rough measure of institutional peers, and has the advantage of being familiar to CRA members.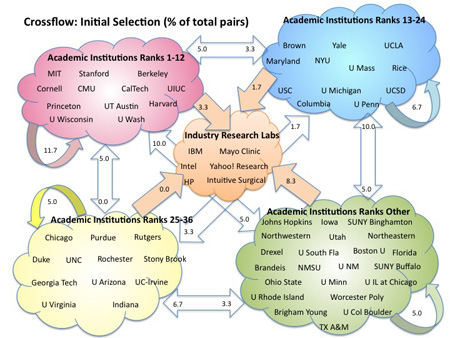 The diagram shows the distribution of CI Fellows who flow along each possible pathway between the five institution groups, from their degree-granting institution to their host institution. The five groups pictured are the four academic groups plus one for industry research labs (which host students but of course do not grant degrees). The institutions in each group are listed on the appropriate "cloud." The groups with NRC ranking numbers include all schools within that group, whether they participated in CI Fellows or not; the "other ranks" and industry groups list only institutions participating in CI Fellows. The numbers are percentages of the sixty Fellows who followed that path. On the double-headed arrows, the numbers at each end are percentage of Fellows going to that group from the other. Arrows that exit and enter the same group represent the percentage of Fellows remaining in the same group, but moving to a host location different from their degree-granting institution.
For an earlier article on the CIFellows, see p. 1 of the September 2009 issue of CRN
---
---
Copyright © 2007 Computing Research Association. All Rights Reserved. Questions? E-mail: webmaster@cra.org.