<< Back to November 2004 CRN Table of Contents
[Published originally in the November 2004 edition of Computing Research News, Vol. 16/No. 5]
Spending Bills Delayed, but NSF Numbers May Improve
Computing Researchers See Increase in Completed Defense Bill
By Peter Harsha
By the start of the 2005 fiscal year (on October 1, 2004) Congress had completed work on just one of thirteen annual appropriations bills necessary to fund the operations of the federal government. It appeared increasingly likely that work on the remaining bills would not be completed until after the November 2nd federal election—and possibly not until the new Congress is seated in January 2005.
As this issue goes to press in early October, Congress has passed a "continuing resolution" providing stopgap funding for federal agencies left without a FY 2005 appropriation through November 20, 2004—an indication that the Congressional leadership does not believe it is likely that agreements can be reached on the remaining bills until Congress returns to Washington in a "lame duck" session after the election.
As a result, agencies like the National Science Foundation, Department of Energy, and NASA, whose appropriations bills have not yet passed, will operate at FY 2004 spending levels, with no new program starts or new spending until an agreement is reached.
This result was foreshadowed back in April and May of this year when the House and Senate were unable to agree on a joint budget resolution that would have set caps on FY 2005 appropriations. Without the caps in place, appropriations bills that come to the floors of the respective chambers are open to amendments that could significantly increase funding levels (or cut others) for programs within the bills. This, in turn, would put Members of Congress in the politically awkward position of having to vote up or down on spending increases on any number of individual programs—a prospect neither the Republican nor Democratic leadership relished during an election year.
It is likely that the unfinished appropriations bills will be bundled into a single "omnibus" appropriations bill and passed en masse, either during the lame duck session or perhaps as late as January when the new Congress convenes.
Despite the delay, some progress has occurred on a number of appropriations bills, including a few of particular relevance to computing researchers.
Defense (P.L. 108-287)
The FY 2005 Defense Appropriation has the distinction of being the only appropriations bill that has been signed into law (P.L. 108-287). Researchers fared reasonably well under the bill, with overall research and development at the Department of Defense slated to increase 10.3 percent or $1.2 billion, to $13.3 billion overall in
FY 2005.
Aggregate basic research funding at the Department of Defense (DOD), so-called "6.1" research in DOD parlance, will rise to $1.5 billion in FY 2005, an increase of 7.8 percent or $110 million over the FY 2004 appropriated level. DOD applied research ("6.2") will increase 11.9 percent to $4.9 billion, and advanced technology development ("6.3") will rise 9.8 percent to $6.2 billion in FY 2005.
Of particular importance to computing researchers, the Defense-wide "Computing Systems and Communications Technology" program line, which includes much of the funding for IT R&D at DOD and DARPA, has been split into two program lines. The new "Information and Communications Technology" line will receive $192.7 million in funding in FY 2005, and the new "Cognitive Computing Systems" account will receive $151.2 million in FY 2005. Their combined $344 million represents about $1.2 million more than the President requested for FY 2005 and $5.5 million more than FY 2004.
The "High Performance Computing Modernization Program" also received an increase of $32.7 million or 15.9 percent over FY 2004, increasing to $238 million for FY 2005.
Full details of the branch-by-branch breakouts are included in table 1 (below).
VA-HUD-Independent Agencies (HR 5041, S 2825)
Both the House and Senate Appropriations Committees have approved their respective versions of the VA-HUD Appropriations bill, which includes funding for the National Science Foundation and NASA; however, as this issue goes to press in early October, neither bill has been considered by the full House or Senate.
The House Appropriations Committee acted first (as we reported in CRN, September 2004, Vol. 16, No. 4), approving a bill that would cut NSF's overall budget by $110 million over the FY 2004 level to $5.47 billion in FY 2005, a cut of 2.0 percent. In addition to cuts at NSF, the House committee also approved a $1.1 billion cut to NASA's FY 2005 budget, earning a veto threat from the Administration.
However, NSF fared much better in the Senate version of the bill, which included an increase of 3.0 percent overall for the agency in FY 2005. Under the Senate bill, NSF funding would rise to $5.75 billion in FY 2005, an increase of $167 million over FY 2004. This matched the President's requested level, but is still well beneath the 15 percent per year increases authorized by Congress and approved by the President in the NSF Authorization Act of 2002.
Computing research fared better than most other areas in the Senate version. Under the plan, the Computing and Information Science and Engineering directorate (CISE) would increase 4.1 percent over FY 2004, from $605 million to $630 million ($12 million more than the President's request). Only Social, Behavioral, and Economic Sciences (SBE) and "Integrative Activities" had a higher percentage increase, and those are directorates with considerably smaller baseline budgets.
In addition, the Senate committee, noting the success of the agency's Information Technology Research program at "increas[ing] our understanding of computing, communications, and information systems as well as the areas of large-scale networking, new high-end architectures, high-data-volume instruments, and information management," increased funding for the activity to $190 million for FY 2005. Having completed the five years it was originally slated to run, the ITR program was due to drop in funding to $178 million for FY 2005.
It is not yet clear how work on the respective VA-HUD bills will proceed. They could move as individual bills for consideration by their respective bodies or get bundled up with all of the other unfinished appropriations bills as part of an omnibus bill and never see individual consideration. However, at some point, House and Senate negotiators will have to work out the discrepancies between the House and Senate funding levels. As in the past, CRA will work to see the highest possible funding level approved. For the latest updates on that effort, check CRA's Computing Research Policy Blog at http://www.cra.org/govaffairs/blog/index.php.
Commerce, State, Justice, and Judiciary (HR 4754, S 2809)
This bill includes funding for the National Institute of Standards and Technology (NIST) and the National Oceanic and Atmospheric Administration (NOAA). As a result of a very poor FY 2004 appropriation, NIST has found itself in a very dire financial situation. A $22 million cut in the agency's budget in the appropriation left it unable to move forward on much of its cyber security work and led to layoffs for some lab personnel.
Both the House and Senate Appropriation Committees have approved their FY 2005 CSJJ appropriations bills. The Senate bill would funnel more funding to the NIST Labs than the House version, adding $43 million to the FY 2004 number for a total of $384 million for FY 2005. In contrast, the House version would provide $375 million for FY 2005. Both versions are still well short of the Administration's request of $423 million.
However, the Senate took a completely different path than the House regarding the controversial Advanced Technology Program. The House bill and the President's budget request both zeroed out the $177 million ATP program, but the Senate version would actually increase the program by 14.5 percent to $203 million. It is not clear how this significant divergence of opinion will get resolved.
Of note to computing researchers, the Senate bill would set aside $3 million for quantum computing research, with the committee noting that a breakthrough in quantum computing technology "would rival that of the transistor 50 years ago."
Homeland Security (HR 4567, S 2537)
Both the House and Senate Appropriations Committees have marked up their respective versions of the Homeland Security bill; both have the same relatively small investment of $18 million in cyber security research and development for FY 2005 out of a total Homeland Security S&T budget of more than $1.0 billion.
For the latest updates on the appropriations process, check the CRA Government Affairs website at http://www.cra.org/govaffairs. For commentary and analysis on the latest developments, be sure to check CRA's Computing Research Policy Blog at http://www.cra.org/govaffairs/blog/.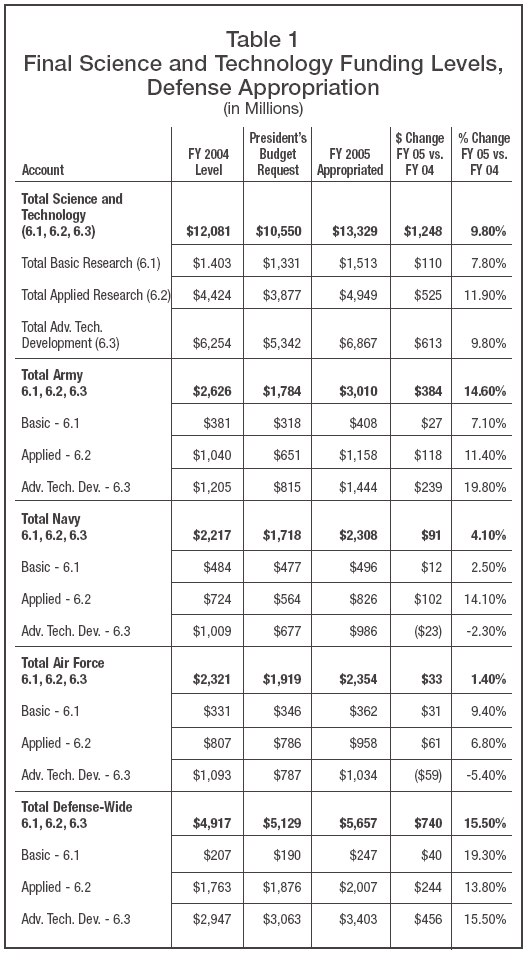 ---
Peter Harsha is CRA's Director of Government Affairs.
---
---
Copyright © 2007 Computing Research Association. All Rights Reserved. Questions? E-mail: webmaster@cra.org.