Back to November 2002 CRN Table of Contents
[Published originally in the November 2002 edition of Computing Research News, Vol. 14/No. 5, p. 4.]
Historical Trends from Taulbee Surveys: Early Employment of Doctorates
By Jay Vegso
This is the fourth in a series of articles on data trends from CRA's Taulbee Survey and its antecedents, which stretch back to 1970.
The Taulbee Survey tracks demographic data and salaries at doctorate-granting computer science and computer engineering (CS/CE) departments in the United States and Canada. Earlier articles dealt with faculty salaries, the proportion of women among degree recipients and faculty members, and the ethnicity of Ph.D. students and recipients. This article concerns the employment of computer science and computer engineering doctorates in the first year after they received their degrees.
The Taulbee Survey, which is conducted each fall, asks for the current employment status of those who received Ph.D. degrees during the previous academic year (AY). Due to changes in the survey, including the addition of new employment categories, it is difficult to trace employment trends before AY1984/85.
Table 1 shows the results from AY1984/85 onward as percentiles, since these are more useful for tracking trends than raw numbers. These figures exclude the approximately 15 to 20 percent of doctorates whose employment status was unknown each year, as well as those who were listed as unemployed (which average to only 1 percent).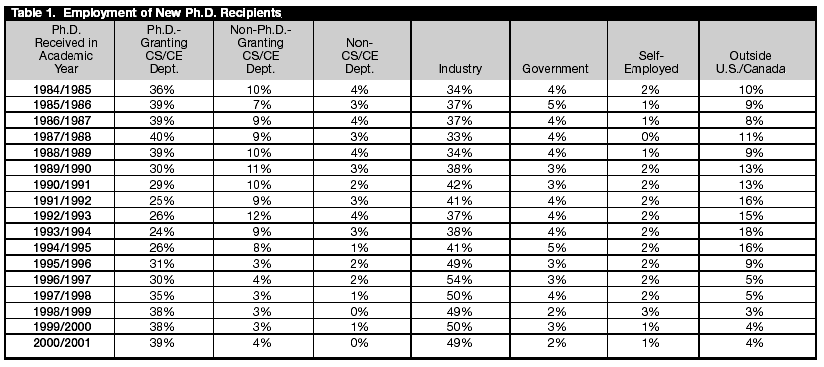 Figure 1 illustrates the proportion of doctorates who were employed outside of academia (i.e., if self-employed, or in industry or government), academia (i.e., in Ph.D. and non-Ph.D.-granting CS/CE departments, as well as in non-CS/CE departments), and outside North America.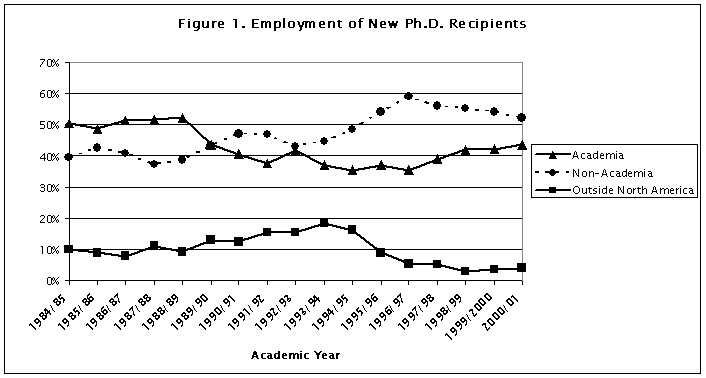 Two trends in particular are worth noting. The first is that starting with the AY1990/91 graduates, a greater proportion of students found early employment outside of academia than in it. This trend increased particularly during the early 1990s, peaking with the AY1996/97 graduates. Since then, however, the share of doctorate-holders going into non-academic jobs has decreased, while the proportion going into academia has increased.
---
---
Copyright © 2007 Computing Research Association. All Rights Reserved. Questions? E-mail: webmaster@cra.org.