<< Back to January 2006 CRN Table of Contents
[Published originally in the January 2006 edition of Computing Research News, Vol. 18/No. 1]
Canadian CIS Enrollments and Degree Production
By Jay Vegso
After more than a decade of strong growth, the number of bachelor's degrees awarded by Canadian institutions in Computer and Information Sciences (CIS) appears set to level off or decline. However, the number of masters and doctoral degrees awarded should continue to increase.
According to an analysis of data from Statistics Canada (http://www.statcan.ca/), 6,020 bachelor's degrees were awarded in CIS in academic year 2003/2004 (Figure 1). This was an increase of 9 percent from 2002/03 and more than two-and-a-half times the number awarded in 1992/93.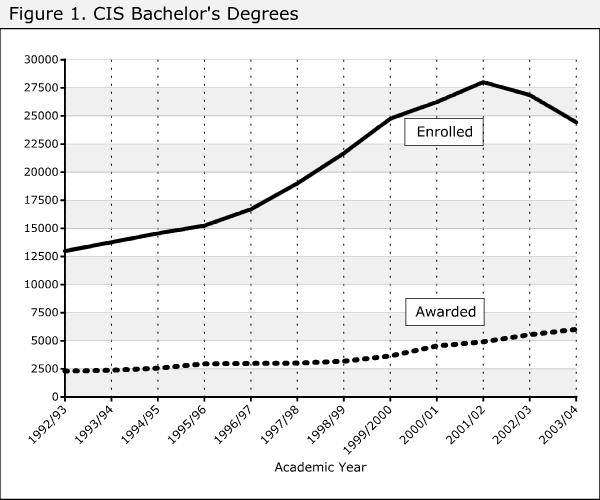 At the master's level, the 790 CIS degrees granted in 2003/04 represented a 16 percent increase over the previous year and 140 percent more than in 1992/93 (Figure 2).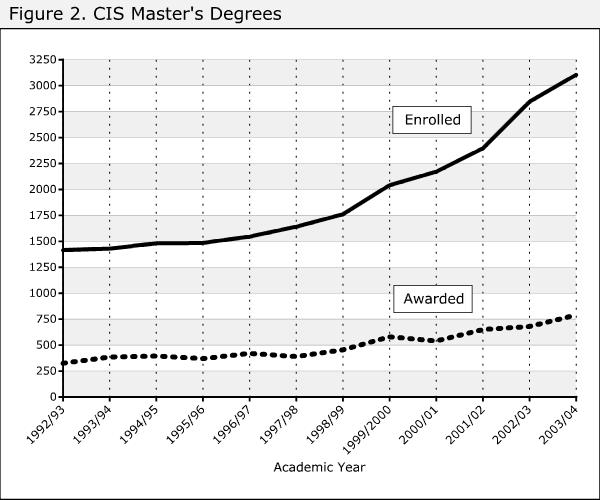 The number of CIS doctorates awarded in 2003/04 was 110, compared to the median of 75 granted between 1992/93 and 2002/03 (Figure 3).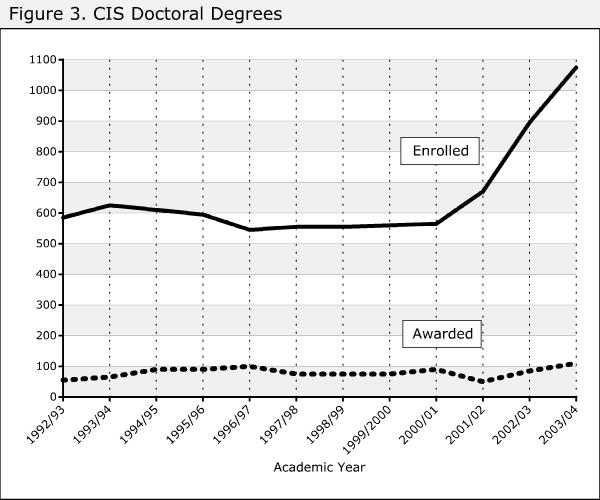 Enrollment data suggest that the number of bachelor's degrees produced will level off or shrink in a few years. Enrollment figures from 2003/04 were nearly 13 percent lower than their peak in 2001/02, compared to a 13 percent increase among all bachelor's degree programs. As a result, CIS represented 3.5 percent of total enrollments in 2003/04, compared to 4.5 percent in 2001/02. The biggest decline in bachelor's degree enrollments has been among women: 30 percent fewer women were enrolled in 2003/04 than in 2001/02, compared to an 8 percent drop among men for the same period.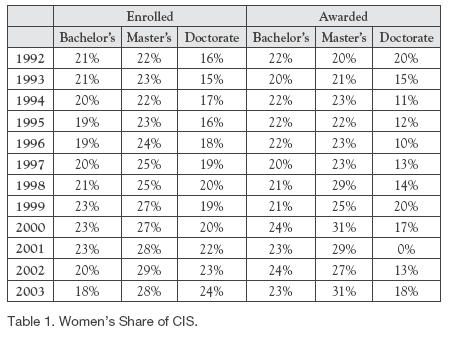 At the graduate level, CIS enrollments continued to surge. Among master's degree programs, enrollments grew 9 percent in 2003/04, to 3,105. The rate of growth at the doctoral level has been even more pronounced: 20 percent higher between 2002/03 and 2003/04, to 1,105 students, and 90 percent higher since 2000/01.
Overall CIS degree enrollment and production trends at Canadian institutions are similar to those seen in the United States. The number of degrees awarded at all levels has grown rapidly in the past decade. Recent enrollment figures would suggest a slowdown in bachelor's degree production in the coming years, in contrast to continued growth at the graduate level.
---
---
Copyright © 2007 Computing Research Association. All Rights Reserved. Questions? E-mail: webmaster@cra.org.