2009 Outstanding Male Undergraduate Award
Tal Rusak is a senior at Cornell University majoring in Computer Science.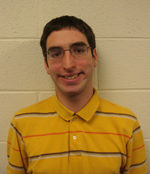 Tal has been involved in research since freshman year, resulting in seven first-authored publications and presentations. Current research involves discovering the structure of low-power wireless networks by applying analytical methods to novel computing systems. Results show effective ways to simulate such networks and have suggested novel statistical properties of wireless links. Tal's work won the Best Paper Award at the international ACM MSWiM'08 conference and First Place in the ACM Student Research Competitions at MobiCom'08 and SIGCSE'08. His paper has been invited for journal publication and several additional papers are currently in preparation. Concurrently, Tal is working on a research and development project to design and implement a user-friendly web-based course planning and audit system, with a paper submitted for publication. Previously, Tal studied the efficient simulation of electronic sensor devices, including the CvMOS sensor and a nanotube-embedded chemicapacitive sensor; results were published at the IEEE ISDRS'07 conference.
Tal maintains a perfect GPA, has served as a teaching assistant and peer tutor for undergraduate students, and serves on the Student Library Advisory Council. He volunteers at an after-school program for elementary school students. Tal has a deep interest in history, and has published a sole-authored paper in an international journal in this field.
<< Back to 2009 Awards homepage
---
---
Copyright © 2007 Computing Research Association. All Rights Reserved. Questions? E-mail: webmaster@cra.org.