2009 Outstanding Female Undergraduate Award Runner-Up
Erin Carson is a senior at the University of Virginia, majoring in Computer Science with minors in Applied Mathematics and in Materials Science and Engineering.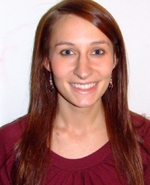 At UVA, Erin has been involved in several research projects. Most notable are two involving modeling and simulation. The first concerns simulating the dissolution of alloys, which resulted in a conference paper. The second considers the uncertainties in epidemiological models and their effects on the results. Her work has brought into serious question whether any disease spread model can ever be deemed reliable.
In addition to being a fine student with a near-perfect GPA in her major and minors, Erin has worked as a TA for four semesters, gives her time freely to multiple charitable activities in the Charlottesville community, and holds an executive position in her professional engineering sorority.
<< Back to 2009 Awards homepage
---
---
Copyright © 2007 Computing Research Association. All Rights Reserved. Questions? E-mail: webmaster@cra.org.