2009 Outstanding Female Undergraduate Award
Raluca Ada Popa is a senior at Massachusetts Institute of Technology majoring in Computer Science and Mathematics.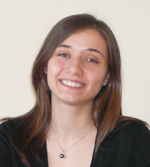 At MIT, Raluca has been involved in three research projects that have resulted in three publications and two others in submission at top conferences. Her research includes: the auditing of computerized elections, cooperative caching techniques for huge databases spread across large numbers of servers, and computing useful statistics or functions about the movement of cars (e.g., automatic toll collection) without violating the privacy of drivers by revealing the position of any particular car.
After spending her freshman year at Cal Tech, Raluca transferred to MIT, maintaining a perfect GPA at both institutions. In the summer between, Raluca worked on a research project at the University of Illinois that resulted in a paper at SOSP. It is rare indeed for anyone to be on track to be an author on papers based on research in each undergraduate year. She also has served as an undergraduate tutor for the Office of Minority Education at MIT, and currently participates in the Women's Outreach Program for the ECE Honor Society.
<< Back to 2009 Awards homepage
---
---
Copyright © 2007 Computing Research Association. All Rights Reserved. Questions? E-mail: webmaster@cra.org.