2008 Outstanding Female Undergraduate Award
Rachel Sealfon is a senior at Princeton University majoring in Computer Science.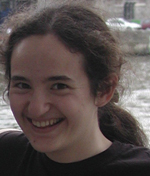 Rachel's research is in the area of bioinformatics. Working largely independently, she developed a novel system for Gene Ontology analysis, search and exploration. She is the lead author of a paper on this research that has been published in BMC Bioinformatics (one of the main journals in the field). Her paper received stellar reviews and a lot of attention in the field, and her system is being used by biology researchers in many institutions.
Rachel has a near-perfect GPA in a diverse and demanding range of courses. In addition, she is a talented writer and has won several awards for her writing. One essay won the National Gilder Lehrman Prize in 2004 for the best essay on American History published in The Concord Review, the only journal to publish exemplary historical writing by high school students.
<< Back to 2008 Awards homepage
---
---
Copyright © 2007 Computing Research Association. All Rights Reserved. Questions? E-mail: webmaster@cra.org.