2008 Outstanding Female Undergraduate Award Runner-Up
Raluca Ada Popa is a junior at Massachusetts Institute of Technology majoring in Computer Science and Mathematics.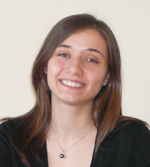 At MIT, Raluca has been involved in two main research projects. The first project is theoretical in nature and concerns the auditing of computerized elections. Specifically, it concerns tight upper bounds on the number of ballots that need to be hand-counted in order to be confident in the results of voting system software. She contributed a central proof that resulted in a publication that she presented while only a sophomore. The second project concerns cooperative caching techniques for huge databases spread across large numbers of servers; it focuses in particular on fault tolerance in the face of dynamically changing sets of servers, some of which may be behaving maliciously. She has developed solutions for two key aspects of this system. Apaper on these results is in preparation.
After spending her freshman year at Cal Tech, Raluca transferred to MIT, maintaining a perfect GPA at both institutions. In the summer between, Raluca worked on a research project at the University of Illinois at Urbana-Champaign that resulted in a paper at SOSP, of which she is a co-author. It is rare indeed for anyone to be an author on papers based on research in each undergraduate year.
<< Back to 2008 Awards homepage
---
---
Copyright © 2007 Computing Research Association. All Rights Reserved. Questions? E-mail: webmaster@cra.org.