About CRA
Membership
CRA for Students
CRA for Faculty
CRA-Women
Computing Community Consortium (CCC)
Awards
Projects
Events
Jobs
Government Affairs
Computing Research Policy Blog
Publications
Data & Resources
CRA Bulletin
What's New
Contact
Home
2007 Outstanding Male Undergraduate Award Runner-Up
Matei Zaharia is a senior at the University of Waterloo majoring in Computer Science.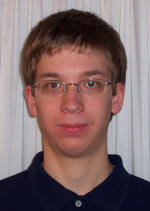 Matei's research has focused on two areas related to networking—peer-to-peer systems and wireless networking. He has worked on efficient search algorithms for peer-to-peer networks, and improving recall in large, unmanaged, user-content storage systems in the presence of spelling errors. This work has lead to two publications, one of which is first-authored. His current work is on communication protocols that can maintain sessions across disconnections.
In addition to maintaining a near-perfect GPA, Matei has been very active and successful in programming contests. During high school, he won a silver medal two years in a row at the International Olympiad of Informatics. At Waterloo, he was twice a member of teams participating in the ACM programming championship. In the first year his team tied for 15th in the world, and in the second year his team placed 4th in the world and 1st in North America. Competing individually, he placed 15th (out of 14,500) at the Google Code Jam.
<< Back to 2007 Awards homepage
---
---
Copyright © 2007 Computing Research Association. All Rights Reserved. Questions? E-mail: webmaster@cra.org.