2006 Outstanding Female Undergraduate Award
Jenny Yuen is a senior at the University of Washington majoring in Computer Science and Engineering.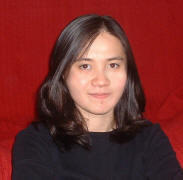 Jenny's research is on object and concept recognition for content-based image retrieval. This work has led to one publication with several more on the way. In the past year her focus has been on a medical application of image analysis. In this project she is performing like a graduate student, developing novel techniques of her own design and implementing them to produce a working system. Jenny has worked as a summer intern at both Microsoft and Google and has received scholarships from both companies.
Prior to attending the University of Washington, Jenny attended Escuela Nacional Preparatoria (the National High School of Mexico) where she was one of the top ten students in a class of 11,000 students. As a junior at the University of Washington she received an Honorable Mention in the CRA's 2005 Outstanding Undergraduate Award competition. In addition to research, Jenny has worked as a consultant for the Minority Science & Engineering program, and is strongly involved in the student chapter of the ACM.
<< Back to 2006 Awards homepage
---
---
Copyright © 2007 Computing Research Association. All Rights Reserved. Questions? E-mail: webmaster@cra.org.