2005 Outstanding Female Undergraduate Award Runner-Up
Suporn Pongnumkul is a senior at Carnegie Mellon University, with a double major in Math and Computer Science.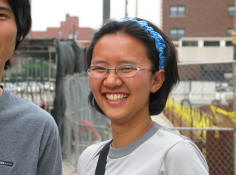 Suporn's research addressed the problem of developing and evaluating a new algorithm for the List Update problem. Together with her collaborators, she proposed a new way to evaluate the List Update problem using a method that bridges the gap between competitive analysis and average case analysis. Suporn wrote a simulator to see how the new evaluation method evaluates both their new List Update algorithm and some existing well-known algorithms for the problem. The simulation results show that they have a promising criterion to judge how good a List Update algorithm is in practice. Suporn has also done research in computer vision. She developed a program to detect the status of a stereo receiver by pointing a camera at the stereo's front panel. Her academic record is strong; she is one of a handful of computer science students at CMU with a 4.0 GPA.
Suporn is active in service; she has served as an academic peer tutor, a lab assistant for a computer cluster, and a grader. She served as treasurer of the Thai Student Association at CMU, and has worked with the Chesapeake Habitat for Humanity in Baltimore and as a volunteer English teacher in Thailand.
<< Back to 2005 Awards homepage
---
---
Copyright © 2007 Computing Research Association. All Rights Reserved. Questions? E-mail: webmaster@cra.org.