2005 Outstanding Female Undergraduate Award Runner-Up
Jane Lin is a senior at the University of Maryland, College Park, majoring in computer engineering.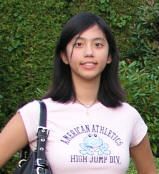 Jane's research focused on the behavior of solutions to the Boolean Satisfiability (SAT) problem. She designed and implemented a random 3SAT generator that builds 3SAT instances possessing particular properties. Using the generated data, she and her colleagues showed that the hardness of a problem is related to the number of solutions that an instance has. These results were published at AAAI-04. In addition to her research, Jane served as an Undergraduate Teaching Fellow for two semesters. She won the Best Project Award in the NSF-sponsored MERIT program (2003) and the Career and Technology Excellence in Career Technology Internship Award in 2001. She has been on University of Maryland's Deanís List and the National Dean's List (2002-04).
Jane is a Cuong Nhu martial arts instructor at Tzu-Chi/Deh-Ming Chinese School and has been Senior Advisor, Secretary, and Historian of the Chinese Student Association.
<< Back to 2005 Awards homepage
---
---
Copyright © 2007 Computing Research Association. All Rights Reserved. Questions? E-mail: webmaster@cra.org.