2005 Outstanding Female Undergraduate Award
Andrea Grimes is a senior in the Honors Program at Northeastern University, majoring in Computer and Information Science.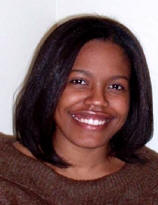 Andrea's research focused on identification and visualization of language patterns in biology papers. She has also done research on the use of support vector machines for classifying diagrams. This research resulted in three published papers, including one as first author that she presented at the IEEE Bioinformatics Conference at Stanford in fall 2003. In the area of human computer interaction, Andrea has investigated the display of information on mobile devices in order to maintain privacy. Andrea has maintained the top GPA in her College (2001-03) and is a member of Phi Kappa Phi National Honors Society and Upsilon Phi Epsilon. She was awarded first- place honors in the Roland E. Lantham Oratory Competition and was chosen as one of two U.S. representatives to the 2004 World Association for Cooperative Education Conference on work-integrated learning.
Andrea gives generously of her time to a variety of service, outreach, and community activities. She serves as a mentor for computer science students at Northeastern, as a mentor for high-school students through a local higher-education resource center, and as a computer-technology instructor for a local inner-city community center. At Northeastern, she is active in the Choral Society and is a member of several gospel groups.
<< Back to 2005 Awards homepage
---
---
Copyright © 2007 Computing Research Association. All Rights Reserved. Questions? E-mail: webmaster@cra.org.