About CRA
Membership
CRA for Students
CRA for Faculty
CRA-Women
Computing Community Consortium (CCC)
Awards
Projects
Events
Jobs
Government Affairs
Computing Research Policy Blog
Publications
Data & Resources
CRA Bulletin
What's New
Contact
Home
2004 Outstanding Female Undergraduate Award Runner-Up
Heather Ann Wake is a senior at the University of South Carolina. She will receive her Bachelor's degree in Computer Engineering with a minor in Business Administration in May 2004.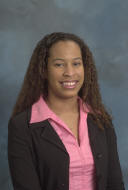 Heather's research centers on high-performance computing, particularly the use of reconfigurable computers. Among her accomplishments are multiple hardware implementations of a Lehmer sieve application, which were synthesized for a Star Bridge Systems Hypercomputer platform. More recently, she has been the principal integrator of VHDL for hardware programming with EDIF specifications for applications. Heather has co-authored papers published at MAPLD 2003 and in the Proceedings of the Lectures in Honour of the Sixtieth Birthday of Hugh Cowie Williams, to be published by the Fields Institute, Toronto, Canada, and was the lead author and presenter of a paper at the 2003 IEEE FCCM Symposium.
Heather serves as a research fellow while also working as a television technician for the University of South Carolina. Before that, she worked as an administrative assistant and as a sales associate at area businesses. While working, she has maintained a 3.97 GPA, has repeatedly been named to the President's List, and has received numerous other academic honors and scholarships. She was inducted into Phi Beta Kappa and serves as the Executive Council Student Member for the USC chapter, and serves as Web Coordinator for Tau Beta Pi, the national engineering honor society. She has also served as head diving coach for the Five Oaks Swim Club and as a multi-sport coach for the Champions All Sports School.
<< Back to 2004 Awards homepage
---
---
Copyright © 2007 Computing Research Association. All Rights Reserved. Questions? E-mail: webmaster@cra.org.