2004 Outstanding Male Undergraduate Award Runner-Up
Ethan Eade is a senior at Duke University. He will receive a Bachelor's degree with majors in both Computer Science and Mathematics in spring 2004. As a 2003 Marshall Scholar, he will attend the University of Cambridge in fall 2004 where he will study robotics and distributed systems.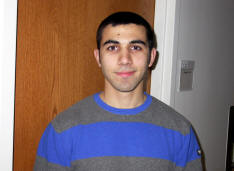 Ethan is interested in multiple areas of computer science and has contributed foundational research to several projects. For the ModelNet project, a large-scale wide-area network emulation system built on commodity hardware, he researched the application of graph partitioning to the assignment of network links to multiple computers. Ethan was co-author of a paper resulting from ModelNet published at MASCOTS '03, lead author of a paper on peer-to-peer networks and distributed event notification at ICTSM11, co-author of a paper on navigation algorithms at ICRA 2003, and will co-author a paper on developing a programming environment for beginning students.
Ethan maintains a 4.0 grade point average in Computer Science and is currently ranked seventh in his class at Duke. He has been named to the Dean's List every semester and has received numerous scholarships and awards, including the Angier B. Duke Memorial Scholarship and the Barry Goldwater Scholarship. He served for two summers as an undergraduate research assistant and served as a summer intern at Cape Computing, Inc. Ethan is president of the Duke Robotics Team and is an avid musician, playing in the Duke Symphony Orchestra as principal trumpet, in student musical productions as trumpeter and orchestral director, and in various other musical groups.
<< Back to 2004 Awards homepage
---
---
Copyright © 2007 Computing Research Association. All Rights Reserved. Questions? E-mail: webmaster@cra.org.