2003 Outstanding Male Undergraduate Award
Omar Khan is in his fourth year at Cornell University. He will receive his Bachelor's degree in Computer Science in May 2003.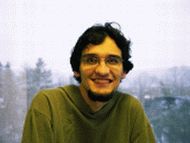 Omar has done significant research in data analysis techniques. He has addressed a wide variety of problems at both the theoretical and implementation levels. Omar's work involves attempting to cluster all documents in the NEC CiteSeer collection and determining how the clustering changes with time. Omar posed fundamental questions about the nature of structures found by clustering algorithms. He contributed to the development and implementation of a sophisticated clustering technique that he then validated using several independent methods. His range of skills includes theoretical analysis, careful experimentation, and explanation of results. Additionally, he obtained research results in stochastic search and in sensor fusion. Omar and his advisors are now writing papers that will disseminate his work.
Omar ranked first in his class of nearly 700 students at Cornell in his freshman and sophomore years. He has been a teaching assistant and a course consultant at Cornell. He has also been a research assistant at Cornell, a summer research intern at McGill University, a summer research intern at Xerox PARC, and a student researcher and project leader at the Cornell Theory Center. Omar has won national recognition in mock trial competitions. At Cornell University, he was awarded the 2002-03 Frank and Rosa Rhodes Scholarship and has been named to the Dean's List in every semester of his undergraduate studies. He has participated in a variety of outreach activities with the Cornell Theory Center.
<< Back to 2003 Awards homepage
---
---
Copyright © 2007 Computing Research Association. All Rights Reserved. Questions? E-mail: webmaster@cra.org.