2003 Outstanding Female Undergraduate Award
Bistra Dilkina is a senior at Simon Fraser University, and will receive a Bachelor's degree in Computer Science in spring 2003.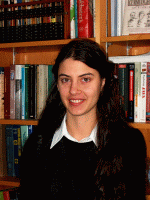 Bistra's research is in artificial intelligence. She has been developing a constraint programming system for solving difficult scheduling problems. In addition to her conceptual contributions, Bistra is the project's lead programmer. A spin-off company incorporating some of her research results has been formed by Simon Fraser University. The research is being published at the Third International Workshop on Constraint Programming and Belief Revision in Sydney, Australia.
Bistra was awarded a research assistantship in Simon Fraser University's Intelligent Systems Lab. She has won numerous scholarships and awards, including the International Shrum Scholarship. Bistra is representing her university in the ACM Programming Competition, and helped to prepare training materials for her team. Her extensive record of public service includes work for the St. James Community Service Society, which provides help and shelter to people with mental illness.
<< Back to 2003 Awards homepage
---
---
Copyright © 2007 Computing Research Association. All Rights Reserved. Questions? E-mail: webmaster@cra.org.