About CRA
Membership
CRA for Students
CRA for Faculty
CRA-Women
Computing Community Consortium (CCC)
Awards
Projects
Events
Jobs
Government Affairs
Computing Research Policy Blog
Publications
Data & Resources
CRA Bulletin
What's New
Contact
Home
2002 Outstanding Male Undergraduate Award Runner-Up
Alexander Fabrikant is a senior at the University of California, Berkeley. He will receive a B.S degree in Electrical Engineering and Computer Science, and a B.A. degree in Mathematics and Linguistics, in May 2002.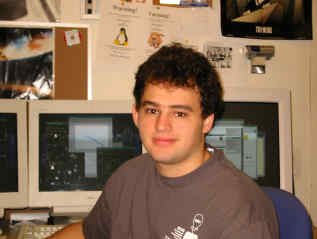 Alex is interested in theoretical aspects of computer science, especially algorithms. He has worked on three different projects: quantum computing heuristics for graph coloring, statistical analyses and string indexing methods for comparative genomic analysis, and, most recently, asymptotic bounds for problems relating to models of the graph structure of the Internet. He has co-authored papers on each topic and has developed software implementations of his results.
Alex has been a summer intern at Xerox PARC and a math tutor, course reader, and teaching assistant at Berkeley. He has been an officer for two years in the Berkeley chapter of Eta Kappa Nu, the national EECS honor society, and has also been active in community service.
<< to 2002 Outstanding Undergraduate Awards home page
---
---
Copyright © 2007 Computing Research Association. All Rights Reserved. Questions? E-mail: webmaster@cra.org.