About CRA
Membership
CRA for Students
CRA for Faculty
CRA-Women
Computing Community Consortium (CCC)
Awards
Projects
Events
Jobs
Government Affairs
Computing Research Policy Blog
Publications
Data & Resources
CRA Bulletin
What's New
Contact
Home
2001 CRA Undergraduate Award Runner-up
Litza Stark (Runner-Up) is a senior at the University of Delaware. She is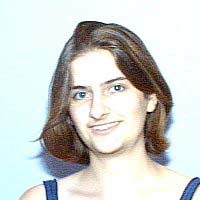 majoring in computer science and Spanish, with minors in cognitive science, linguistics, and psychology.
Litza's research interest is in human-computer interaction, particularly natural language processing. She has done experimental research on language acquisition and is interested in analyzing the mental representation of language with the goal of modeling it. She has co-authored a paper and is currently working on an honor's thesis. Litza has been a research assistant for projects in both computer science and cognitive science, and she has worked two summers at AT&T Research Labs.
Litza has received the Delaware Academy of Science Award, several academic scholarships, and departmental awards as the outstanding junior and outstanding female. She is a member of Phi Kappa Phi and Upsilon Pi Epsilon. Litza is currently a teaching assistant, and she has helped to develop a program to attract high-school girls into computer science.
---
Copyright © 2004 Computing Research Association. All Rights Reserved. Questions? E-mail: webmaster@cra.org.