CRA 2001 Undergraduate Award Winner
Lisa Anthony is majoring in computer science at Drexel University. She is in the fourth year of a five-year Bachelor of Science/Master of Science program.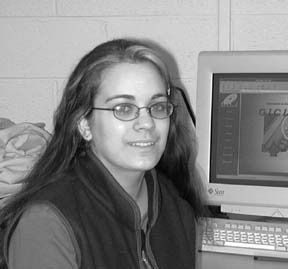 Lisa is a research assistant in the Geometric and Intelligent Computing Laboratory at Drexel. She has helped to develop a computer-aided conceptual design environment and is currently working on the use of decision-theoretic and case-based planning techniques for the control of distributed, multi-agent systems. Lisa has co-authored four papers and presented two papers at major conferences. She has also been a summer researcher at the National Institute of Standards and Technology (NIST).
Lisa has received numerous honors at Drexel, including the 1999 Award for Outstanding Industry, Leadership, and Academics in Computer Science; and the AT&T Undergraduate Research Fellowship for 2000. She has also been an assistant Webmaster for her department.
---
Copyright © 2004 Computing Research Association. All Rights Reserved. Questions? E-mail: webmaster@cra.org.