2001 CRA Undergraduate Award Winner
Kevin Zatloukal is a senior majoring in both computer science and mathematics at the University of Washington.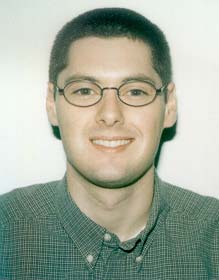 Kevin has developed a new algorithm for nearest-neighbor searches in data compression. He has also worked on several aspects of data caching with colleagues at Microsoft Research, where he has spent three summers. This work includes algorithm design and structure layout for improved cache performance and a cache-conscious Web server. Kevin's work has resulted in three papers and a patent. He is now working on problems in computational molecular biology.
Kevin has been a teaching assistant for four courses, a mentor to disabled high-school students, and a tutor for the Women in Engineering program. He has been named a University of Washington Undergraduate Scholar, a Mary Gates Scholar, and a Robert C. Byrd Honors Scholar.
---
Copyright © 2004 Computing Research Association. All Rights Reserved. Questions? E-mail: webmaster@cra.org.