2000 CRA Distinguished Service Award Winner
Juris Hartmanis
Juris Hartmanis, Walter R. Read Professor of Engineering at Cornell University, has been selected to receive CRA's Distinguished Service Award for 2000.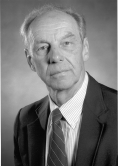 Dr. Hartmanis is an eminent computer scientist and a co-recipient of 1993 ACM Turing Award. With his deep understanding of the computer science and engineering discipline and keen insight of the enormous impact of computing research on high technology, he has made outstanding contributions and played a leading role to help the public recognize the importance of computing research.
From 1990 to 1992, Dr. Hartmanis chaired the Study of the Scope and Direction of Computer Science for the Computer Science and Telecommunications Board of the National Research Council. This study resulted in the influential volume Computing the Future: A Broader Agenda for Computer Science and Engineering, which had a major impact on the computing research community's ability to look outward.
Juris Hartmanis recently completed a two-year term as the Assistant Director of the National Science Foundation (NSF) for Computer and Information Science and Engineering (CISE). During his tenure, he effectively positioned NSF and CISE to assume a leadership role in response to the President's Information Technology Advisory Committee (PITAC) report. He was instrumental in shaping the discussion that led to NSF's playing the lead role in the Information Technology Research (ITR) program.
More biographical information can be found at the Cornell University Computer Science's website.
Dr. Hartmanis received his award at CRA's Snowbird Conference 2000 on July 10, 2000.
---
Copyright © 2004 Computing Research Association. All Rights Reserved. Questions? E-mail: webmaster@cra.org.